Honoring Female Emcees in Hip-Hop: Past, Present, and Future
Female emcees, although not always given their due, are integral to hip hop's rise, evolution, and continued expansion. In the words of Sha-Rock, Mother of the Mic,
"The women of hip hop have given our culture something to stand on, to be proud of, to say that this is not a man's world. We were on the frontline and we built this culture as well."
Sadly, the original female emcees don't get as much mention as their male counterparts. But a house does not stand independent of its foundation. And a foundation is not replete without the entire molding of cement and brick, which work to sturdy a structure. And the foundation of hip-hop does not rest solely on male emcees alone but is comprised of male and female emcees who not only established but continue to shape the music and the culture.
Female Emcees Mid 70's (Early Hip-Hop)
Hundreds of female emcees have contributed to hip hop, and the earliest female emcees date back to the mid-70s before the word hip hop was even a term used to describe the monolithic culture. In fact, one of the first female rap collectives, The Mercedes Ladies, hit the scene in 1976. In the 1980s, this group of talented ladies released "Don's Groove." Despite sharing the airwaves with some of their male contemporaries, they've rarely gained equity in recognition for their contribution.
Another little-known group to rise in the late '70s went by the name The Sequence. Interestingly this group was also synonymous with some of the leading originators of hip hop. According to Hip Hop Golden Age,
"The Sequence traveled the world with the likes of Sugarhill Gang, Grandmaster Flash and The Furious Five, The Treacherous Three, Busy Bee, and more."
Undeniably, a discussion on the origins of hip hop cannot be held without mentioning the likes of the Sugar Hill Gang and the Fab Five. However, despite the role 0f The Sequence as performers during the birth of the cultural movement alongside these monumental groups, their name also lacks equitable mention. So surely, there is no denying the travesty that underlines this lack of consideration. Sadly these two pioneering groups would not be the last to take the position of shadow figures in the hip-hop world. 
Other Early Pioneers
Very little is often said of MC Sha-Rock, one of the first female emcees to make an impression as an addition to an all-male crew. MC Sha-Rock was a pivotal member of the Funky 4 +1. She was the plus one to a crew composed of Jazzy Jeff, Guy Williams, Keith Keith, and D.J. Breakout. And unsurprisingly, Sha-Rock was only 13 when she took the Mic. As it will become clear many of the female emcees of the forgone era were merely teenagers. Yet their representation on the stage was on par with their male counterparts.  Despite Sha-Rock's youth, she was center stage in the Funky 4+1  1981 televised showcase on Saturday Night Live.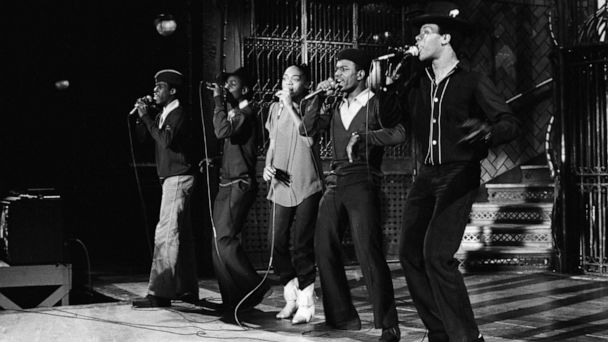 image source: Getty Images
As evident, despite what many believe, the earlier years were not absent of Femme Fatales on the Mic. In fact, in 1984, a young MC named Roxanne Shante made her mark in hip-hop history at 14, and her talent was indisputable. Shante's career took off after her response to the track "Roxanne Roxanne," with " Roxanne's Revenge." What is even more amazing,  it took one take for Shante to have the ears of the world. However, to keep the ears of the world, hustle and struggle became her constant companions. But earnestly, the path was not easy for any of these emcees. Proving yourself lyrically while protecting oneself from the whims of those who ruled in the male-dominated industry was a daily. 
A Different Time
Inarguably the earlier years of hip hop were different times. Societal standards were different. Hip-hop was growing from its infancy, and artists, in general, were fighting for credibility and relevance in the industry. This only made the job of female emcees ten times as hard.   Demonstrating prowess above everything to stand toe to toe with the dominant figures of the time was critical. Roxanne once said of her earlier years,
"Male rappers felt like I was throwing things off. If the best in the game is a little girl, then rap will no longer be seen as masculine. She wasn't only subverting the hierarchy of hip-hop, but the genre's gender norms."
For sure, there is no denying that even the initial track which led to Roxanne's success was a well-crafted response to U.T.F.O.'s track where misogyny was the case. The U.T.F.O. track about a crew of men without much luck with a lady was the launching pad to the 14-Year-old Roxanne's success. But despite the subject matter and how her peers saw her, Roxanne's goal was to shine every time she stepped to the mic.  And Roxanne Shante wouldn't be the first or last emcee to have to step up consistently to prove their mettle. Salt n Peppa (1985), MC Lyte (1988), Queen Latifah (1988), Antoinette (1989) Sister Soulja (1992) brought their brand of lyrical assault, pushing open door after door with every verse. However, with the passing of time and the expansion of hip-hop, the sacrifices females had to make for respect and notice shifted. With the increasing commercialization of rap, the industry standards for female emcees were rapidly evolving. The late 1990s marked the complete transformation, and Lil Kim and Foxy Brown were pivotal in that change. 
Late 90's to the Present
It is a known fact that the female emcees of the 90's era took on the persona of the men who signed and groomed them. The male emcees Lil Kim (1995) camped with, primarily Christopher Wallace, aka Notorious, was crucial in shaping her image. According to hip-hop scriptures,
She [Kim] modeled her vocal flow after the very successful Biggie Smalls—adding grunts and ferocity—while her image revolved much more around sex appeal.
With each new artist, it was apparent that sexiness was becoming a critical factor in the signing and promotion of female emcees. Foxy Brown (1996), another industry peer from a different camp, subscribed to the same model of hyper-sexualization as Lil Kim. According to a spokesperson on My Mic Sound Nice: The Truth About Women and Hip Hop, 
"Kim and Foxy were the sexual revolution of Hip-hop" (15:44)
Let's Talk About Sex
Lil Kim: Image Source Getty Images
Some argue that emcees before Kim and Foxy were also purveyors of the erotic. While, on the surface, this seems true, there remains a stark difference. Truthfully,  emcees before Kim and Foxy didn't stray away from subjects of sex and promiscuity. However, their lyricism, not their image, sold the point. The erotic appeal took a back seat to the message. Earlier female emcees held to a line they didn't care to cross. One could say the response of the artists of the earlier era was shaped by the perception of females' positioning throughout a male-dominated society. Respect in any occupation was earned. So, those emcees had to prove themselves lyrically or be perceived as a novelty act. While sex was a relevant topic, the artist spit from a contextual standpoint, the emphasis being on the lyricism, not the visuals. Being a sex symbol and expounding on the issue of sex were two separate things. As Roxanne stated in an interview with Billboard
" I didn't want to be second best; I didn't want to be the best girl — I wanted to be the best." 
Reframing of Success
Foxy Brown: Image Source Countess/WireImage
Artists like Lil Kim and Foxy Brown also had a desire to excel in hip hop. However, marketing for female emcees' image to the mainstream media had changed. Kim and Brown were molded to fit nicely into the new niche. That standard was marketed worldwide. Consequently, established emcees faced a new struggle. According to female emcees Rah Digga, Eve, and Missy Elliot, who were already on, Kim and Foxy's hypersexualized image put pressure on other emcees to conform.
Some artists did what they could to conform while others, like Missy Elliot and Lauryn Hill, carved out their lane.  These two were outliers, exceptions to the status quo. One thing, the 90s proved that while the template of acceptable standards changed, not much else had since the late 70s. In a 2016 interview, Salt of Salt and Peppa conferred, 
"Hip hop is so misogynistic, masculine, if a woman doesn't have anything unique that stands out amongst the male testosterone it is a difficult industry to survive in."
In the Early 2000s

Nicki Minaj: Image SourceDavid Fisher/Shutterstock
The 2000s didn't see a shift in the new standard, yet it did see a shift in the number of female emcees represented in the commercial market. According to My Mic Sound Nice: The Truth about Women and Hip Hop, In the 2000s, there were fewer female opportunities for mainstream female emcees. Female emcees in the spotlight diminished significantly from 40 to about a dozen (28:17). As noted,
"It was hard to find female emcees of any worth with the backing of major labels."
But, the issue was more profound than female emcees of worth. The industry was unwilling to invest time, energy, and capital into female artists' marketing, promotion, and maintenance. The upkeep was unsavory to many labels, and the majority didn't want the hassle. Regardless of the reduced numbers in the mainstream, some female emcees still found commercial success, Nicki Minaj, was one. Minaj took the Mic in 2007, representing everything the industry wanted. She had boundless sex appeal and talent. Some described her as a mix of Missy Elliot, Eve, and Lil Kim, making her the next level standard and a force majeure. 
Mid 2000's to Present
Cardi B: Image Source: Broadimage/Shutterstock
Cardi B and Megan "Thee" Stallion took their places behind the Mic in 2015 and 2016, respectively. Artists like Megan "Thee" Stallion and Cardi B followed a similar prototype as Nicki's, eye candy and talent. However, as the next wave of artists, they upped the ante. These two used the industry's desire to over-sexualize its artist and converted it into a platform of empowerment. They determined how the world would see them. As written in Medium
"Megan and Cardi both dance and dress in very sexual ways because it's proven that sex sells, but they also did it to show they are proud to be women and are comfortable in their bodies."
Despite the success of Megan and Cardi and the like, there is still heavy contention surrounding current success standards and hyper-sexualization's role. The prominence of sexuality as a selling point has proven an obstacle for many female emcees, as Lizzo has openly spoken. The after-effects are alarming and have proven detrimental. In an industry where sexiness is essential untenable standards are met with acts of extremism, mental pathologies, and extreme dysmorphias. Inevitably this potentiates an unsustainable model, in the long run, indicating a dire need for artists to speak out and revolutionize the industry.
The Future of the Female Emcee
There are no fewer emcees now than there were years ago. According to Ranker, over 30 female emcees proudly represent the top tier of mainstream currently. Even more emcees represent in the underground. And undoubtedly, many legacy makers still stand as significant cultural influencers. So as Missy exclaims, the future of female emcees is not going anywhere despite the indeterminate nature of the direction and branding.
To reiterate Sha-Rock, words.
"The women of hip hop have given our culture something to stand on, something to be proud of, something to say that this is not a man's world, that we built this culture as well."
 Building a sustainable legacy never stops. So as long as hip-hop culture exists, female emcees will be there to contribute, take the Mic, and tell their stories.